Our expertise
Groundworks, Deep Excavations, Reinforced Concrete Foundations/Structures, Roads, Sewers, Industrial Building and Factory Units.
Contract values start from a small domestic £500 job to industrial works of approximately £3M.
A Selection of completed projects
HOR 3 Excavation, Immingham Docks - Value: £250,000
The HOR 3 Project for a local oil refinery consisted of a 10m x 6m x 8m deep excavation. The excavation was fully designed by BH Construction. We drove 10m long Larson Piles and installed 3 no. large heavy duty hydraulic frames. The excavation was completed in 4 weeks, on time and within budget.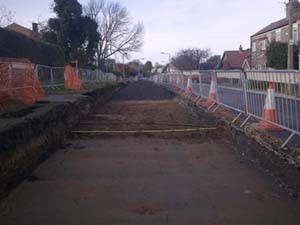 Road works, Cheapside, Waltham - Value: £160,000
This project for North East Lincolnshire Council consisted of a full reconstruction of the highway in 2 halves controlled by traffic management. The old road was fully excavated around the services, new sub base laid, kerbs, tarmac surfacing and lining works. The scheme was over 200m long and was completed in 9 weeks, on budget with no major issues.

Tata Steel CPS Oil Bund - Value: £220,000
This project consisted of constructing a large holding pit below ground. We carried out the construction works and reinforced concrete floors and walls. A system formwork was used for forming the walls from Peri Systems.
Tetney Oil Terminal - Value: £900,000
This project involved the construction of a new tank foundation built on CFA Piles, new retaining wall and the installation of an environmental liner to ensure 100% containment is achieved.

Warehouse Extension - Value: £700,000
We fully designed and constructed a 6,000m2 extension to the existing steel shed of Groveport Logistics. The contract included piling, reinforced concrete foundations, structural steelwork, cladding, cranes, electrics and the external works. The contract was completed 2 weeks early to allow the client additional undercover storage space.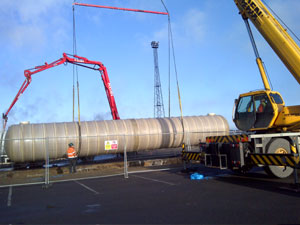 Cess Pool Installation - Value: £50,000
The Cess Pool Installation was part of a New Shutdown Village for Tata Steel. The installation included the excavation, purchase and setting in of a 84,000 litre underground tank. Once in the ground, we filled it with water to allow it to be surrounded in concrete. The installation and surround was complete in 1 long day.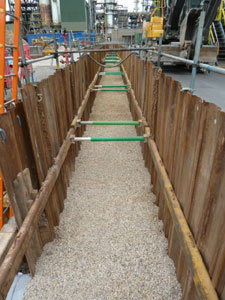 Fire Main Installation - Value: £100,000
The contract awarded was to divert a fire main for a local oil refinery. The job was in the middle of a live operational unit. We carried out the trench excavation and tie-in points and installed a designed shoring system to allow lorries to pass by the excavation. We completed the works in a 3 week period and on budget.

Steel Terminal - Value: £1.45 million
BH Construction Co. Ltd designed and built a 12,000m2 warehouse for Flixborough Wharf Ltd. in Scunthorpe. The terminal was constructed on piles due to the close proximity of the river. The contract included the foundations, structural steelwork, cladding, 5 overhead cranes, electrics, external works and a new amenity block. The project was completed in 24 weeks, on time, and came in on budget.